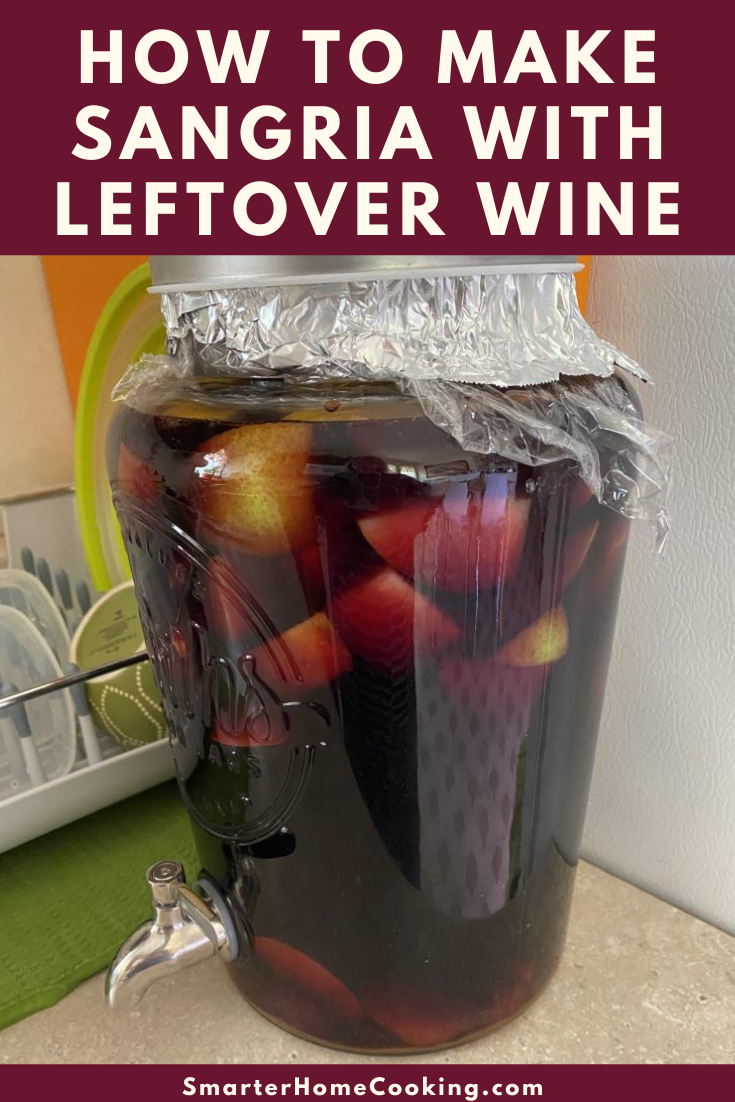 I love wine. Cooking with wine. Drinking wine. Thinking about when I'm going to have a glass of my favorite wine.
I have my go-to's, for sure. I'm a Pinot Noir lover. But I'm always willing to try new wines of any varietal. Experimentation is great but every now and again, I buy something I don't like so much.
Rather than wasting it, I'll use it to cook (adding it to meats when braising, using it in fish and chicken dishes, making pan-sauces, even homemade pie)
But I've also found another way to use the wine that doesn't quite suit my tastes. I make sangria. A lot of sangria. Previously, I only drank sangria when I dined out at a Spanish restaurant, had tapas, or maybe I'd have a refreshing glass every now and then during the hot summer months.
Lately, there have been amazing discounts and deals on wine – online (through wine clubs) or at the grocery store. I have a Grocery Outlet near me and they have a great wine buyer, a killer selection, and deep, deep discounts. I'm always willing to grab a couple of bottles for $5.99 each – especially when I look them up online and see that they retail for $19.99 or more elsewhere. I figure that If I'm not a fan, I only spent $6.
Then a foodie friend changed my world by sharing a delicious sangria recipe with me. It wasn't a recipe really – more of just him rattling off what he throws in his concoction. He knows that I like the ritual of making things that have to sit overnight (or for 48 hours in the case of the sangria). Because of my passion for making gallons of cold brew coffee every week, he was sure I'd be into making sangria. And he was right.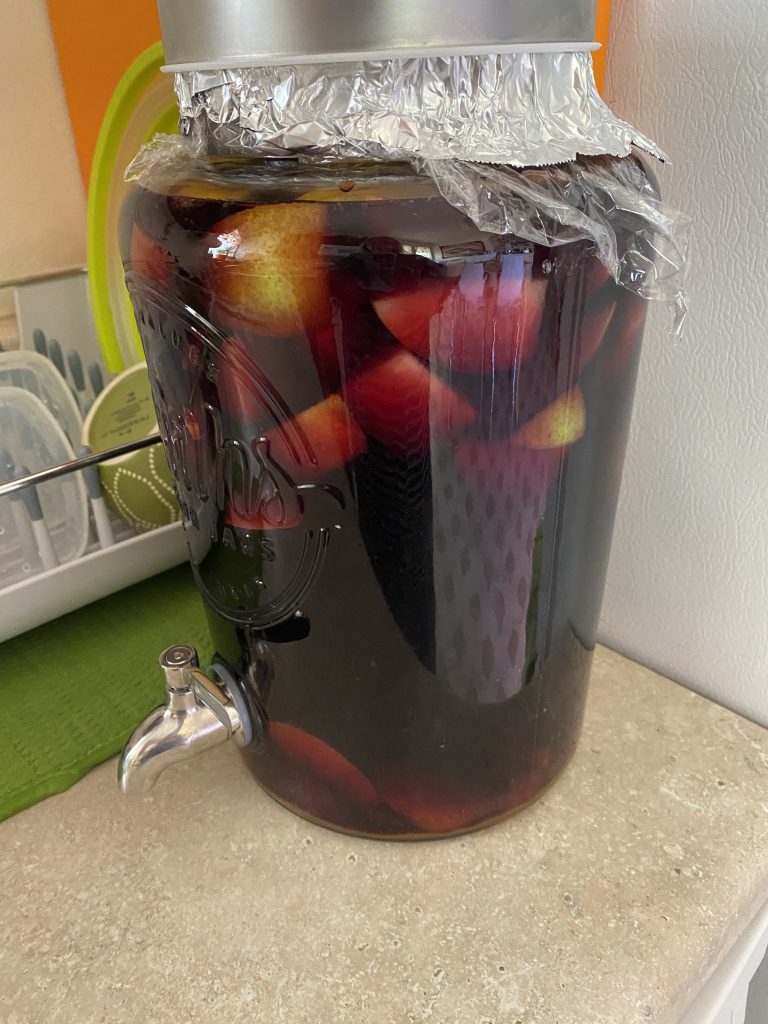 Making sangria suits me for so many reasons.
Wine. D'uh!
Not following a recipe and having room for interpretation.
Using whatever fruit is in season. My first batch of sangria was infused with stone fruits (plums and peaches). The next one had apples and pears. I'm not a fan of things that are sweet, so I don't add sugar. I just let the sweetness of the fruit do its job.
The convenience of having something I love on hand that can be prepped ahead.
Not wasting food (or beverages in this case)
Next, I'm thinking about making a wintery, Christmas sangria. Maybe with cranberries, oranges, and a cinnamon stick. Not sure. It's all trial and error. But so far, there has been nothing that wasn't totally tasty!!
Here is a basic sangria recipe.
If you feel like experimenting, go for it. In addition to using whatever fruit you prefer, you can change it up and use maple syrup instead of sugar. Often people use agave or brown sugar. Some recipes call for adding club soda or sparkling water. When my Soda Stream CO2 cartridge was empty, I tossed in some La Croix and Diet 7Up. Ginger ale would work too. Most recipes say to use a splash of brandy, but rum is often substituted. I also add vodka. I have also mixed red wine, rose, and even some white wine. It's all good.
Although I encourage you to do you – my one tip is to let the mixture sit in a glass container for 48 hours outside of the fridge. This gets things fermenting and creates a complex, delicious drink. Otherwise, your sangria will simply taste like wine that you dropped fruit in.
Salute!!