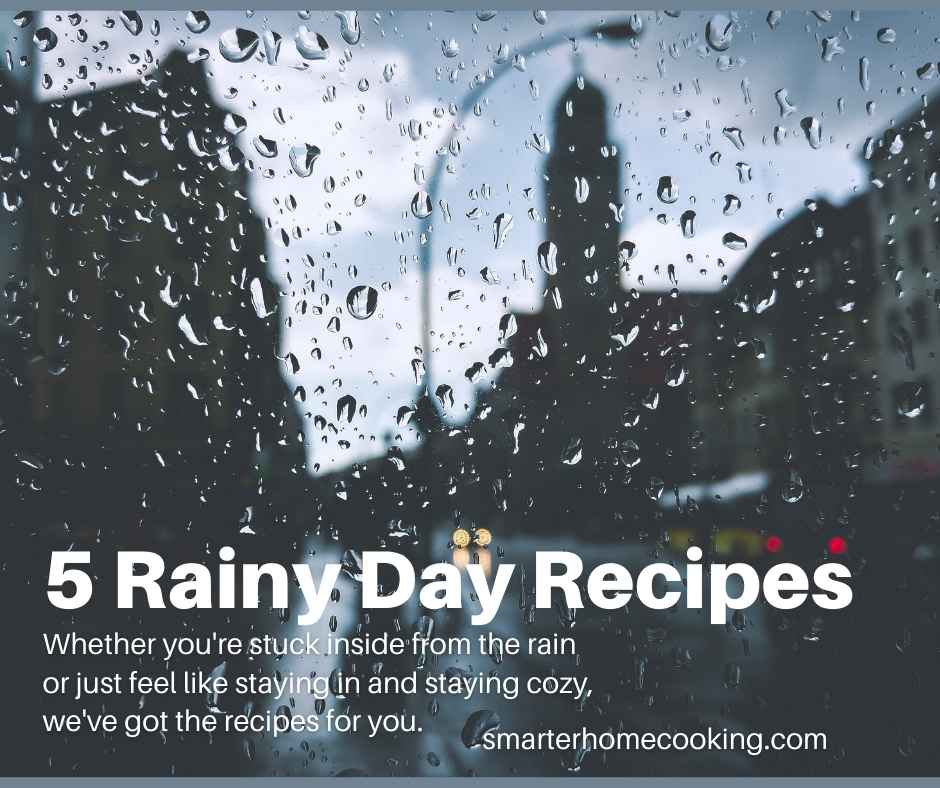 5 Recipes for a Rainy Day: Comforting Dishes to Keep You Warm
When the rain is pouring down and the wind is howling, there's nothing better than a delicious, comforting dish to keep you warm. In this blog post, we have collected 5 recipes that will do just that! From soups to stews to casseroles, we have got you covered. So whether you are stuck at home because of bad weather or simply want something cozy and comforting to eat, these recipes are sure to hit the spot.
So without further ado, here are our top picks for rainy day comfort food:
1. Creamy Chicken Noodle Soup
This classic soup is the perfect dish to have when you are feeling under the weather. It is warm, comforting, and packed with nutrients.
Ingredients:
2 tablespoons unsalted butter
1 tablespoon olive oil
2 cups chopped yellow onion (from 1 large onion)
1 cup chopped carrots (from 2 medium carrots)
1 cup chopped celery (from 2 large stalks)
1 ¾ teaspoons kosher salt
3 tablespoons all-purpose flour
4 cups unsalted chicken stock
2 cups whole milk
4 ounces uncooked whole-wheat egg noodles
3 cups coarsely chopped rotisserie chicken breast (from 2 rotisserie chickens)
1 cup frozen green peas
Melt butter with olive oil in a large Dutch oven over medium-high heat. Add onion, carrots, celery and salt and cook, stirring often, until vegetables are slightly softened, 6 to 8 minutes. Add flour and stir to coat. Stir in broth and milk and let mixture come to a boil. Add uncooked noodles to boiling mixture. Cover and cook until noodles are al dente, about 8 minutes. Stir in chicken and peas and cook until pasta reaches desired doneness and chicken and peas are warmed through, about 1 to 2 more minutes. Serve immediately.
2. Beef Stew
This hearty beef stew is the perfect meal to cozy up with on a cold, rainy day. It is packed with flavor and will leave you feeling full and satisfied.
Ingredients:
1 pound beef stew meat, cut into 1-2 inch pieces
2 tablespoons all-purpose flour
2 tablespoons unsalted butter
2 cups beef broth or beef stock
5 large red potatoes
1 medium yellow onion, diced
1 cup carrots, chopped
2 cloves of garlic, minced
1 tablespoon soy sauce
2 tablespoons Worcestershire sauce
2 tablespoons tomato paste
salt and pepper to taste
Chop vegetables into 1 – 1 ½ inch pieces, set aside. In a large bowl combine stew meat and flour and stir to coat. Set Instant Pot to sauté setting and add butter. When butter is melted and sizzling, add meat. Brown on all sides stirring only enough to prevent burning. Pour in beef broth and scrape the bottom of the bowl to deglaze. Add potatoes, onion, carrots, garlic, soy sauce, Worcestershire, and tomato paste. Stir until uniform. Lock the lid of the Instant Pot and set to Stew mode for 35 minutes. Allow the pressure to release naturally after the cooking time is ended, about another 30 minutes. Carefully move open steam valve and release the lid. Salt to taste.
3. Creamy Potato Soup
This creamy potato soup is the perfect comfort food for a rainy day. It is rich and flavorful, and sure to warm you up from the inside out.
Ingredients:
6 slices bacon
1 yellow onion
3 cloves garlic
3 tbsp all purpose flour
4 cups chicken broth
1½ cup milk
½ cup cream
3 lbs potatoes
1½ tsp salt
¼ tsp ground black pepper
⅓ cup sour cream
1 cup sharp cheddar cheese
Add the bacon to a large dutch oven or pot and cook over medium high heat until the bacon is crispy. Remove the bacon to a plate lined with a paper towel and set aside, leave the grease in the pot. Add the diced onion and cook until softened and translucent. Add the minced garlic and cook for an additional 30 seconds or until fragrant. Stir in the flour and allow this to cook for about 2-3. This cooks the flour. Pour in the chicken stock, milk and cream. Add in the diced potatoes, salt and pepper. Stir to combine. Bring the pot to a simmer and cook stirring occasionally until the potatoes are softened and easily mashed. Turn heat off and using an immersion blender, blend the soup until some of the potatoes are blended, be careful not to over-blend, leave chunks of potato in the soup. If you don't have an immersion blender then carefully pour portions of the soup into a blender or food processor and blend until smooth. Return soup to the pot after blending. With the heat still off, stir in the sour cream and shredded cheese. Return the bacon to the soup. Stir to combine. Add any additional toppings and enjoy.
4. Chicken Pot Pie
This classic chicken pot pie is the perfect comfort food for a cold, rainy day. It is packed with veggies and chicken, and topped with a flaky, buttery crust.
Ingredients:
1 pound skinless, boneless chicken breast halves – cubed
1 cup sliced carrots
1 cup frozen green peas
½ cup sliced celery
⅓ cup butter
⅓ cup chopped onion
⅓ cup all-purpose flour
½ teaspoon salt
¼ teaspoon black pepper
¼ teaspoon celery seed
1 ¾ cups chicken broth
⅔ cup milk
2 (9 inch) unbaked pie crusts
Preheat the oven to 425 degrees F (220 degrees C.) Combine chicken, carrots, peas, and celery in a saucepan; add water to cover and bring to a boil. Boil for 15 minutes, then remove from the heat and drain. While the chicken is cooking, melt butter in another saucepan over medium heat. Add onion and cook until soft and translucent, 5 to 7 minutes. Stir in flour, salt, pepper, and celery seed. Slowly stir in chicken broth and milk. Reduce heat to medium-low and simmer until thick, 5 to 10 minutes. Remove from heat and set aside. Place chicken and vegetables in the bottom pie crust. Pour hot liquid mixture over top. Cover with top crust, seal the edges, and cut away any excess dough. Make several small slits in the top crust to allow steam to escape. Bake in the preheated oven until pastry is golden brown and filling is bubbly, 30 to 35 minutes. Cool for 10 minutes before serving.
6. White Chicken Chili
This hearty chicken chili is the perfect dish to warm you up on a cold, rainy day. It is packed with flavor and spice, and sure to hit the spot.
Ingredients:
2 (14.5-ounce) cans white beans
1 tablespoon canola oil
1 medium jalapeno pepper, minced
2 medium poblano peppers, chopped
1 large onion, chopped
4 garlic cloves, minced
Kosher salt and freshly ground black pepper
1 tablespoon ground cumin
1 1/2 teaspoons ground coriander
1 teaspoon ancho chili powder
4 cups low-sodium chicken broth
2 limes, juiced, plus lime wedges, for serving
1 rotisserie chicken, skin removed and meat shredded
1/4 cup chopped cilantro leaves
Sour cream, for topping
Tortilla chips, coarsely crushed, for topping
Drain and rinse the canned white beans. In a medium bowl, mash half of the beans with a potato masher until chunky. Reserve the beans until needed. Add the canola oil to a large Dutch oven and heat it over medium-high heat. Add the peppers, onions, and garlic and sauté until soft and fragrant, about 5 minutes. Season the vegetables with salt, and pepper, to taste. Add the cumin, coriander, and chili powder and continue to saute for 1 more minute to toast the spices. Stir in the chicken stock, and lime juice and bring to a simmer. Add the beans and continue to simmer for 20 more minutes. After 20 minutes of simmering, taste for seasoning, and adjust if necessary. Stir in the shredded rotisserie chicken and cilantro and simmer until heated through, about 5 more minutes. Serve the chili in individual bowls topped with a dollop of sour cream, crushed tortilla chips, and lime wedges.