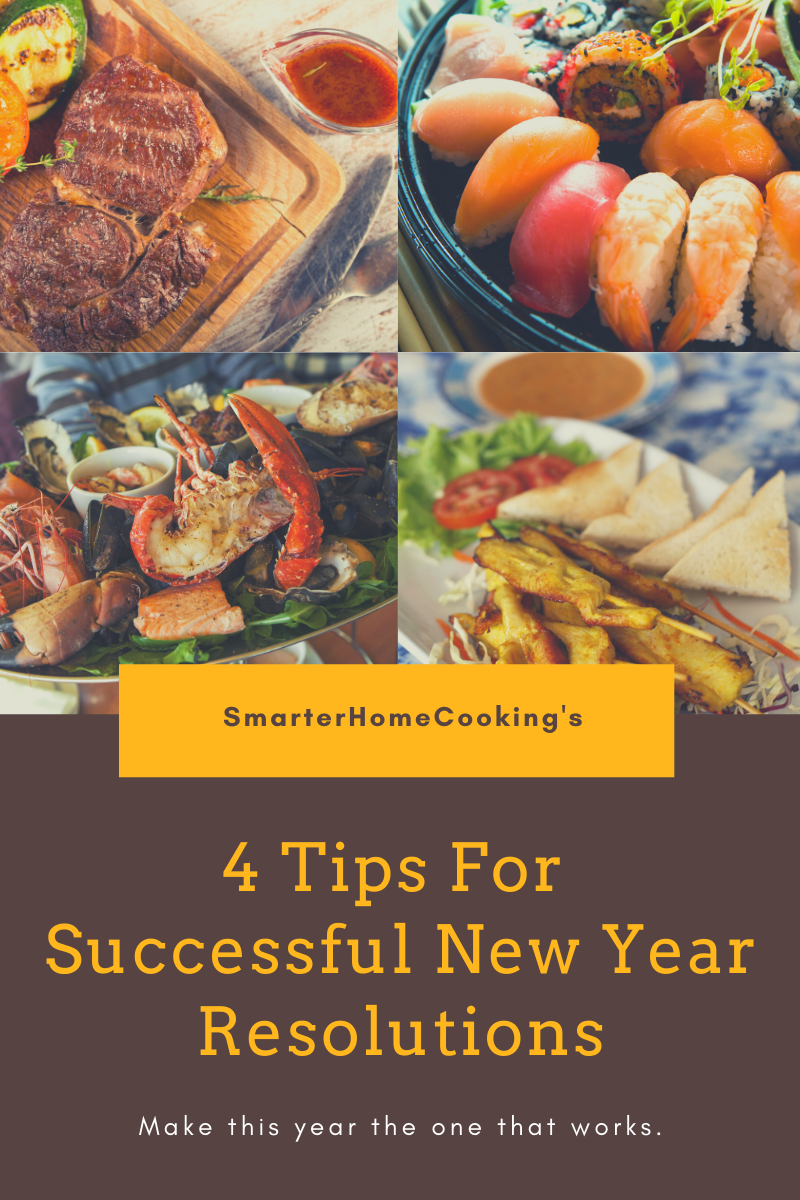 Every day, we need to eat. Therefore, every day we need to spend our money in exchange for food.
Every year around this time, we look ahead with optimism and hope for the future by resolving to make certain changes or improvements that result in a better, more fulfilled or happier life. Although this annual ritual of "New Year's Resolutions" is a positive step, the "resolutions step" is, more often than not, the only step. The resolutions are virtually forgotten within a few weeks.
So, what is a person to do with their resolutions? How does one "stick to it", and actually realize the goal that the resolution intended? The answer: simplicity.
Resolution Tip: Make it simple to achieve your goals.
Make the pathway to your goal so effortless to glide through that your alternatives are less attractive.
Remove any "friction" that you may experience while you try to enact your goals. Friction can come in many forms, like "I don't have access to things I need to achieve my goal", or "It takes too long to get the resources I need to achieve my goals".
Make the alternative (a.k.a. "failure") more friction filled, or intentionally make them more difficult, thereby making them less appealing.
For example, if you want to exercise more, you may (1) purchase a gym membership or (2) purchase home equipment. That way, you have access to the resources you need, when you need them.
back to menu ↑
What is your New Year's Resolution?
A common theme among all annual resolutions is something that improves your Health, Wealth or Happiness. A few examples:
I want to get in shape this year.
I want to shed the 20 pounds I gained during quarantine.
I want to improve my resting heart rate.
I want to be able to run a mile without taking a break.
I want to save money for retirement.
I want to save money for the kids' education.
I want to travel more.
I want to see more of our country in an RV with my family.
I consider these are all "normal" type resolutions that all fit within the three main categories of "Health", "Wealth" or "Happiness".
One common denominator that crosses all three categories is FOOD.
back to menu ↑
Pro Tip: Use FOOD to Improve Your Health, Wealth and Happiness.
It's true: Food can improve your health, wealth and happiness. What you eat, how much you eat, and when you eat it matter. How you prepare it and how much you spend on it also count. For many of us, the resulting effect our food has on the environment also matters.
In general, the food (and its ingredients) that you buy and eat has an overall effect on you and your body and your life crosses these three categories. Food affects your health, wealth and happiness.
So, let's talk about how food is important to your health, wealth and happiness.
back to menu ↑
Health
If you want to lose weight, or get in shape, or feel better in general, any doctor or nutritionist will tell you that "What you put in your body is critical in good health". If you consider the food you eat as simply "fuel" for your body, then you understand my point.
If you want to have better health, look at the food you consume as an important factor.
back to menu ↑
Wealth.
Look at any budget. One of the largest line items is "food", as it is an important part of our lives. How much we spend on that line item is up to us. Oftentimes, we don't follow a budget and simply purchase the food we want, when we want it.
If you want to have more money, you should try to save the money you earn. Therefore, if you can find good deals on food and food expenses, you'll have more wealth.
back to menu ↑
Happiness.
Food makes us happy. It's as simple as that. Delicious food makes us happy. Food that we know is good for us makes us happy. Preparing our food with less waste makes us happy. Saving money on food makes us happy.
Since food can make us happy, we should choose good food!
back to menu ↑
The solution: Plan to eat well, by purchasing the right food subscription services.
These days, getting fresh, healthy food delivered to your door is growing in popularity and growing in options. There are so many options, it may feel overwhelming to find the right solutions for you and your family.
There are meal kit providers that specialize in particular diets (like keto diets or diabetic diets), or meal kit providers that cater to a particular lifestyle (like single professionals or families with small kids) or meal kit providers that focus on types of foods (italian or american or full-flavor vs healthy).
Some meal kits even pre-chop some ingredients to enhance conveniences and time saving. For even more time saving and convenience, we also like to use fully-prepared meal providers to send chef-prepared meals that we simply heat and eat.
An important first step to success is to make a plan. The next, and probably most critical step is to follow through with it!
Either way, if you choose a meal kit or prepared meals, you're more likely to follow through with your food plan!
Here are our 4 Tips to Succeed With Your Health-Focused Resolutions:
back to menu ↑
1. Make a plan. (Or buy one.)
You should know the types of meals you want to prepare, and plan ahead to ensure that you're making the right choices that are consistent with your new year's resolution. (Want to lose weight? Be sure to plan for healthy meals. Want to stick to your new keto diet? Be sure to have keto-friendly snacks and foods available to prevent cheating.)
Using a calendar, establish exactly what meals you'll eat for the week, or for the next two weeks. Planning the meals you select should account for your nutritional needs and goals, as well as an optimal assortment of ingredients to use everything as efficiently, and without waste, as possible.
You can buy a meal plan from our friend and nutritionist Allison Schaaf here.
Pro tip: Whenever you buy a meal kit or purchase prepared meals, your meal plan is always included.
back to menu ↑
2. Do Meal Prep. (Or buy premade meals)
If you're into the process of spending the whole day on Sunday cooking a ton of different meals and freezing them for the week, then this step is for you!
Buy some portion-control-sized plastic containers, get all the ingredients and supplies for the meals you're about to cook in advance for the week, and get to work! It will all pay off during the week when you have healthy and quick meals available to keep you on track to meet your dieting goals.
You can also buy great prepared meals from companies like Freshly and Factor. (We have full reviews and coupons available for all of these companies.
For example: Want delicious meals you can keep in the fridge and heat for the whole family? Check out Freshly.
Or:
Want to get Keto-friendly meals delivered to your door? Check our review of Factor.
back to menu ↑
3. Use Meal Kits For Fresh, Homemade Meals.
For those of us who enjoy cooking or want the meals to be freshly cooked at home, then you may want to consider a meal kit. All of our favorite meal kits include the exact ingredients (with zero wasted food) for delicious meals for all tastes. Some of the meal kits add further convenience and time saving by pre-chopping or pre-assembling the ingredients for you. (See our reviews of meal kits here.)
By using a meal kit provider that satisfies your health and flavor needs, you can ensure that you'll get delicious food that you actually want to eat, while knowing that your health and nutrition goals are being met. Plus, if you use one of our coupons or deals, you'll save some money to try them out!
back to menu ↑
4. Have Healthy Snacks On Hand
The biggest contributor to success or failure in diet or nutrition is impulse control.
We love Sunbasket and Home Bistro for the best meal kits.
The best way to reduce impulse control loss is to have something delicious available, instantly. Of course, the delicious snack will be something healthy and furthers your nutrition or health goals.
So, keep healthy snacks available so you can satisfy your mid morning cravings, or mid afternoon hunger, or midnight impulses.
We love SunBasket for their healthy, fresh food that are available for meals of all day and snacks! They also have smoothies available as add-ons, so you can have a couple of healthy smoothies available for your impulse snacking any day of the week!
back to menu ↑
5. (Bonus tip) Skip the Fast Food Impulse: Have meals available
Similar to keeping snacks available: keep meals available to avoid fast food!
Haven't you ever had to work later than you expected to work, and had no dinner plans established — so you simply dropped by a fast food restaurant on the way home? What about during lunch time when you worked through lunch and have obligations that further restrict your time, so you justify your choice to hit a fast food restaurant because you "have no time for anything else".
Well, I suggest you keep healthy meals available, so you can, at a moments notice fulfill your cravings or needs for a meal. I highly recommend Freshly to keep delicious meals available with a quick trip to the microwave.
back to menu ↑
Top Offers From Our Favorite Meal Kits and Prepared Meals (Plus Our Reviews)
Product
Specification
Photos
Videos
Product
Specification
Photos
Videos
Product
Specification
Photos
Videos
Product
Specification
Videos

Factor 75 (now just "Factor_") is a meal prep service from Chicago that provides Keto, Paleo, Gluten Free and generally highly-nutritious prepared …
| | |
| --- | --- |
| Availability | Delivery Only |
| Delivery Features | Average Packaging |
| Delivery Times | First Deliver comes within 2 weeks (normally) |
| Dietary Needs | Gluten Free, Keto, Low Calorie, Paleo |
| Good For | Atheletes, Couples, Single Person |
| Meals of the day | Breakfast, Cold Press Juice, Dinner, Keto Snacks, Lunch |
| Menu Features | Healthy Menus |
| Per Person Price Range | $12-$15 |
| Prep Type | |
| Specialty Diet Meal Plans | Gluten-Free Meal Plans, Keto Diet Meal Plans, Paleo Diet Meal Plans |