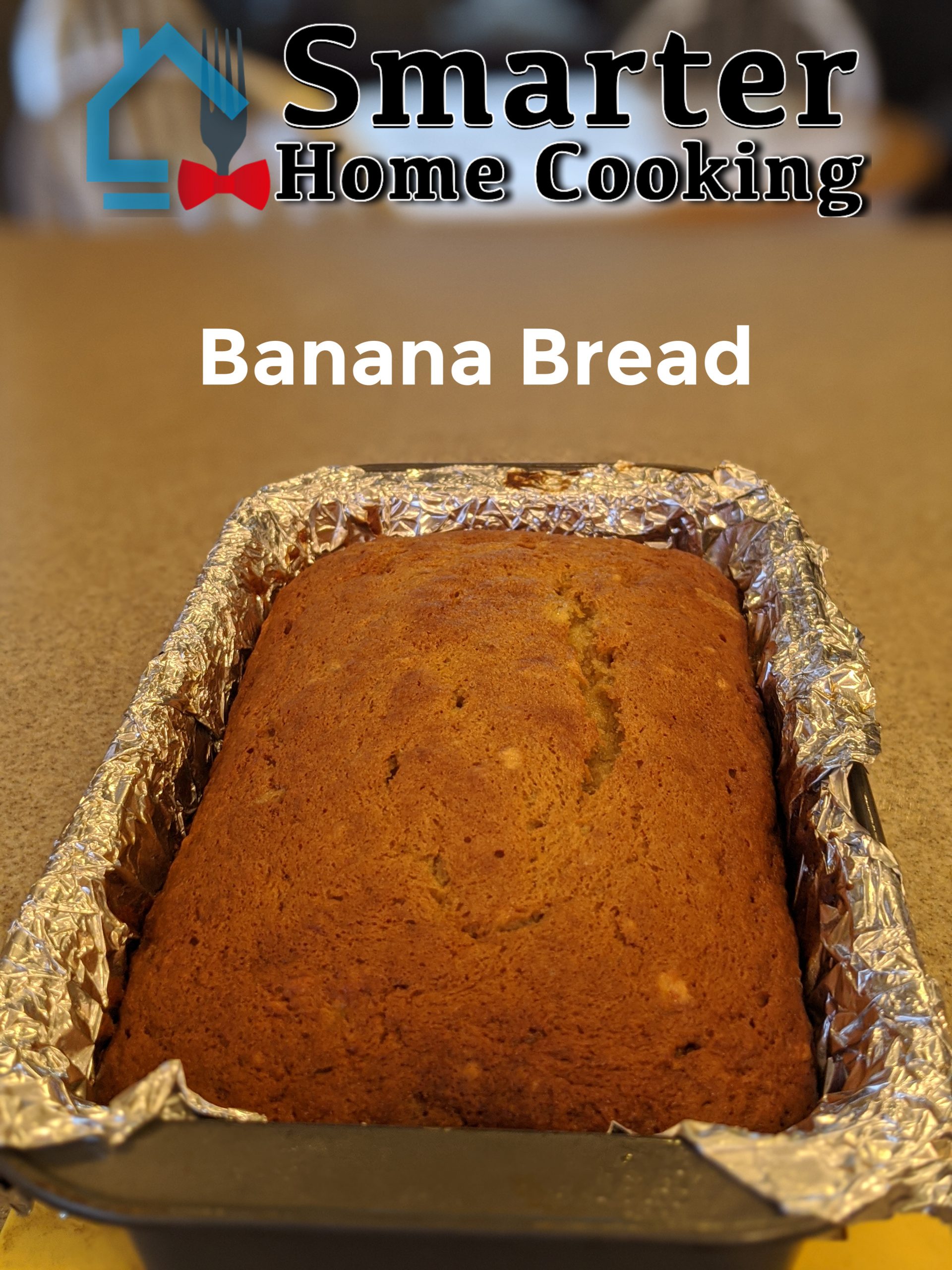 "Why haven't we made banana bread before today?!?"
Banana bread is so yummy and easy to make, I can't believe it has taken me 48 years to realize that this simple delite is very much worth making!
That warm, banana infused steam rising from a fresh-from-the-oven loaf of banana bread as you make that first slice?  Ahhh.. nice.
(A longer version of this video is embedded at the bottom of this post, if you're interested.  I'm assuming only my family would be interested in watching, but it's there if you'd like!)
On a whim last week, my 15 year old daughter and I decided to make our first loaf of banana bread.
It was early on during this "stay at home" order here in Michigan, and we were stepping into a whole new world where we were reducing our grocery store trips, and we were trying to be more efficient with the groceries we have.
With that in mind, we looked at our kitchen counter.  There sat 4 overly-ripe bananas that none of us will eat and will likely end up wasted.  Instead of trashing them (like we normally would), we both were inspired to try our hand at making banana bread out of those browning bananas.

You probably already have everything you need to make banana bread.
If you have some overly-ripe bananas at home, then you likely have everything else in your pantry and can probably make banana bread without a trip to the grocery store.
It's really just the very basics in your pantry: flour, baking soda, brown sugar. And, if you have eggs and butter in the fridge, you're pretty much all set to make banana bread. (I had to borrow a loaf pan, as I don't have my own.)
Ingredients
2 cups all-purpose flour
1 teaspoon baking soda
1/4 teaspoon salt
1/2 cup butter
3/4 cup brown sugar
2 eggs, beaten
2 1/3 cups mashed overripe bananas
Directions
Time to make: 1h 20mYield: 12 servingsCalories: 229 calsPrep: 15 minCook: 1h 5mReady in: 1h 20m
Preheat oven to 350 and lightly grease a loaf pan (9in x 5in).
Combine dry ingredients.
In a large bowl, combine flour, baking soda and salt.
Combine wet ingredients.
In a separate bowl, mix together butter and brown sugar. Stir in eggs and mashed bananas until well blended.
Mix it all up.
Stir banana mixture into flour mixture; stir just to moisten.
Pour batter into prepared loaf pan.
Bake in preheated oven for 60 to 65 minutes, until a toothpick inserted into center of the loaf comes out clean. Let bread cool in pan for 10 minutes.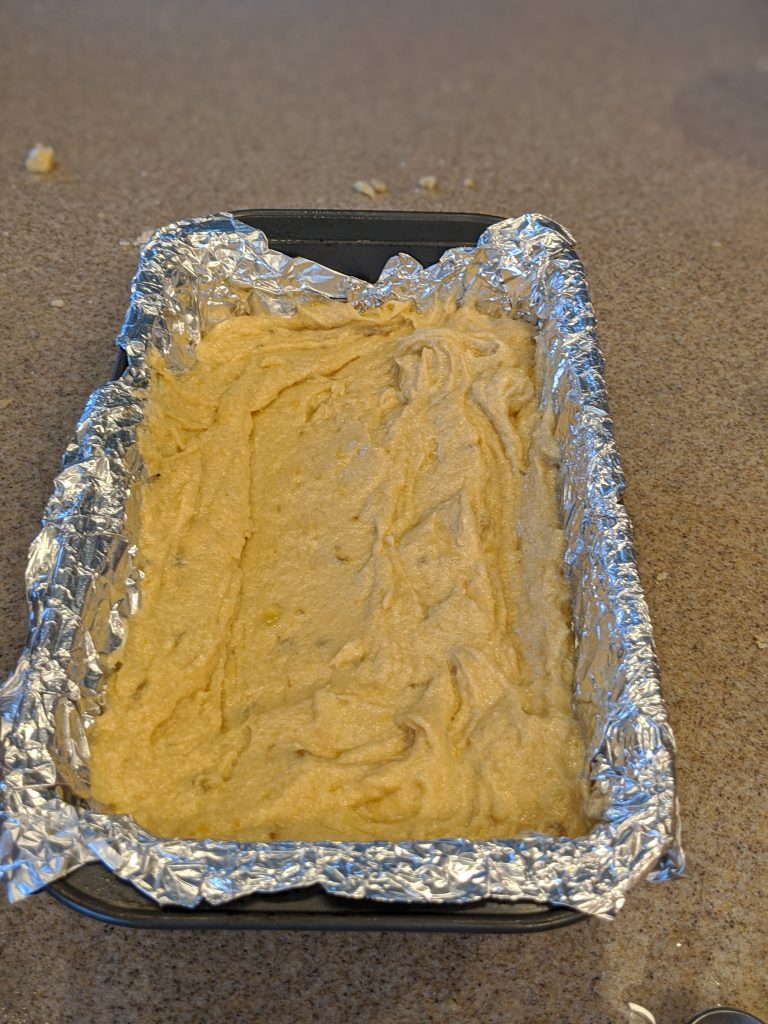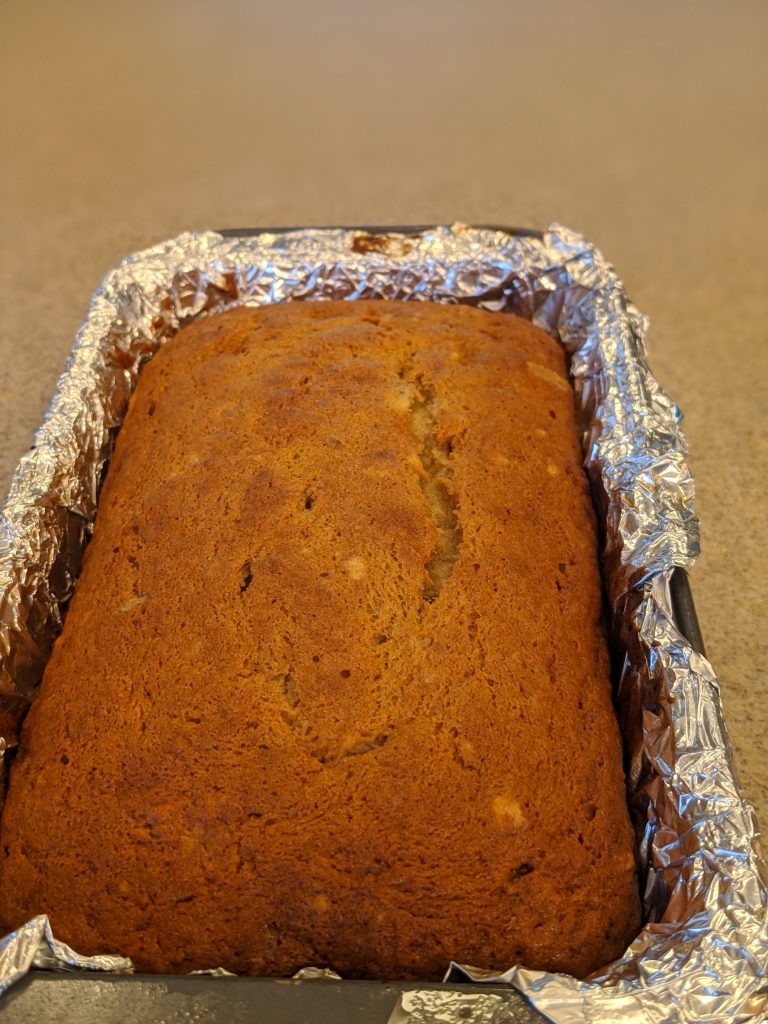 How we made our first loaf of banana bread, in photos: