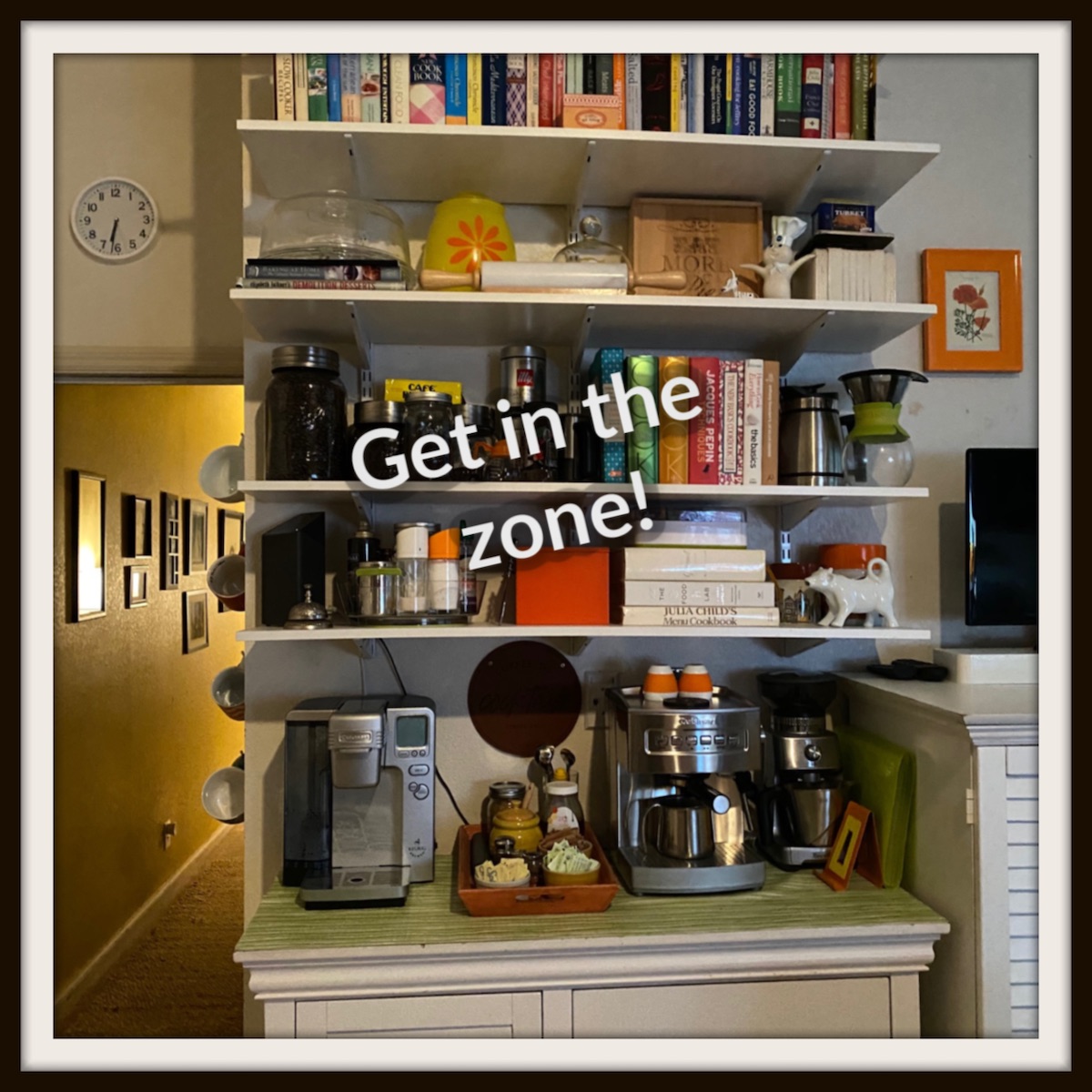 "Get in the Zone"
One of the best things about meal kits is how organized they are when they arrive. Being prepared is the key to cooking. Watch any cooking show and you'll hear the word "Mise en place". It's French for having everything in its place. Meal kits embrace this idea and that makes cooking so much easier and much less of a chore. Two thumbs up!!
I also like to apply the "everything in its place" concept to the organization of my kitchen. When you're not searching for the right bowl or the correct baking pan or a carrot peeler, you're working smarter.
But not all kitchens are created equal. Mine falls far short of the open concept, huge marble island with seating, more storage than I would ever need, nothing on the counter, straight out of a fancy magazine kitchen that you see on HGTV. Yes, I have some serious kitchen envy!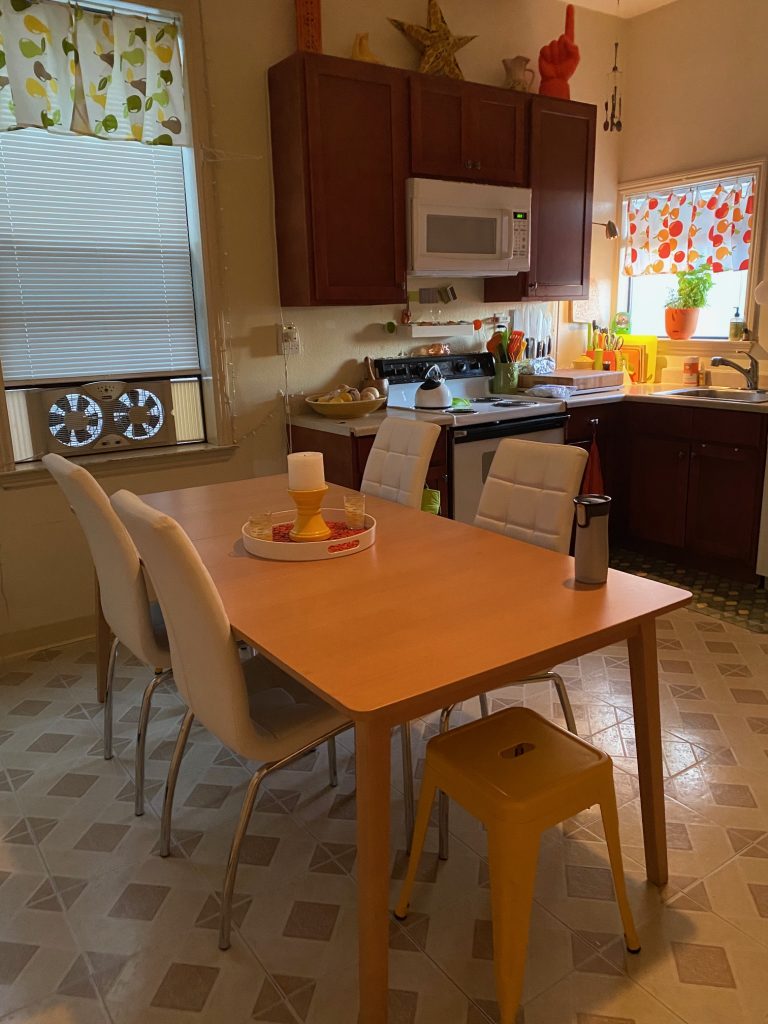 But I rent. And while there are things I can do to make my kitchen workable, there are many things I can't do (like knock down walls and reconfigure the space) for obvious reasons. However, as someone who loves to cook a lot, I've learned how to make the most of what I have (or don't have) to make cooking more enjoyable and have everything in place.
First, let me say that I'm lucky to have a kitchen that's far bigger than most apartments in San Francisco. But the lack of storage and counter space can make preparing meals difficult. But as someone with a bit of an obsession for organizing, I've made it work for me using what I call my Kitchen Zone System.
Basically, I've figured out how I work in the kitchen and put like items together so they are also easily accessible and right where I want them when I need them. That is the key!
It may seem obvious to group similar items together (like putting the knives next to the cutting boards), but it took me years to get to this state of hyper-organization.It was a process, for sure.
I've broken things into zones and now I'll break it down for you.
The Zones:
Coffee
I love coffee and drink a lot of it. I also like for my friends and guests to be able to have coffee or tea or hot chocolate and make it the way they enjoy it. I've put everything you might need (sugars, sweeteners, spoons, syrups, coffee pods, cups, etc) all in one spot. This also ensures that when I have a friend visiting I don't need to make them coffee in the morning. It's all there.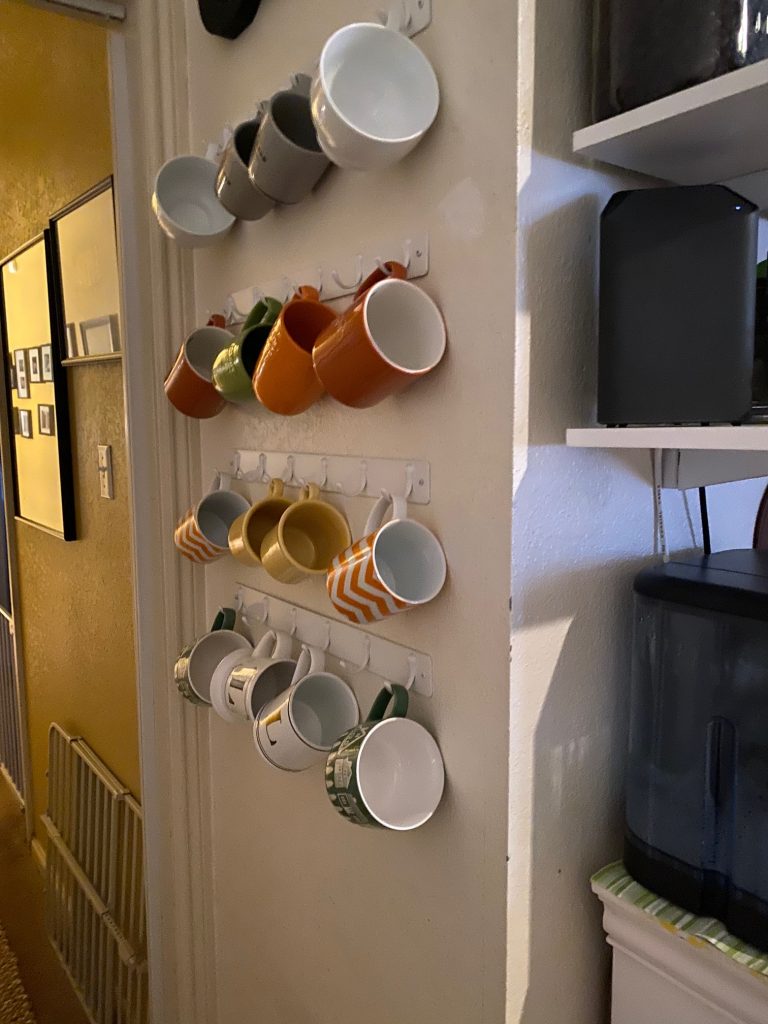 Cookbooks
Sure, I use the internet to look up recipes. But seeing my cookbooks often inspires me to make something new. Plus, it often sparks a discussion when people visit about similar cookbooks they have or ones they think I might enjoy.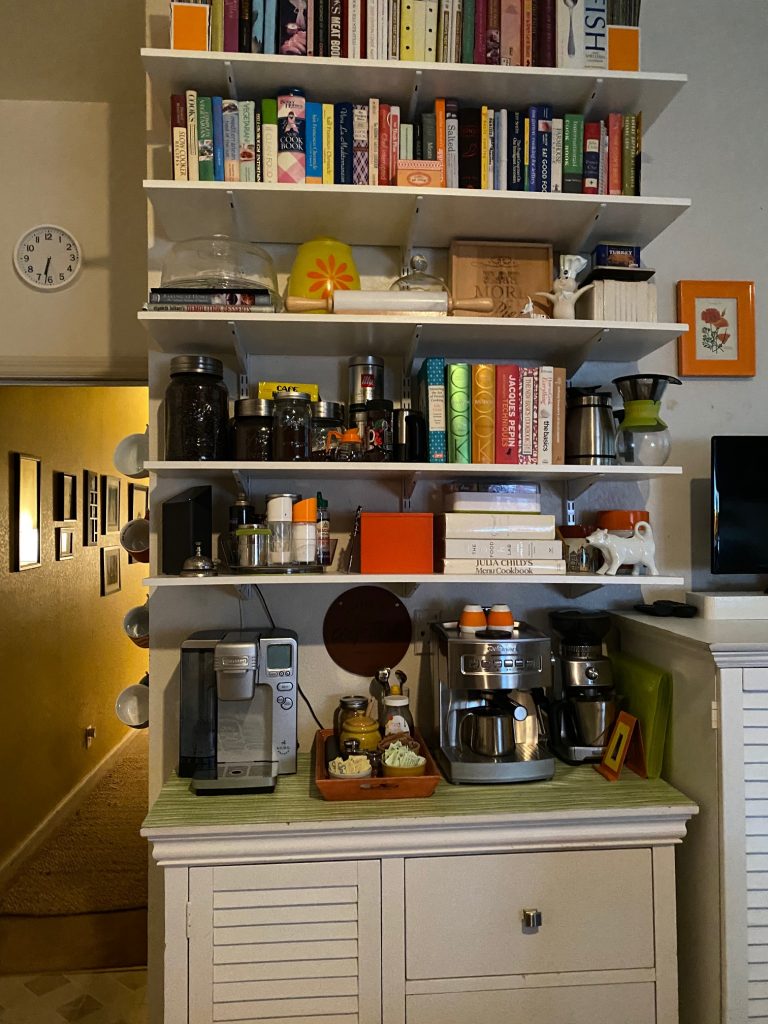 Alcohol and Drinks
Aside from cooking, I love to play hostess and have people over for drinks. But I don't necessarily want people rummaging through my fridge looking for beer or mixers then trying to find the right glass for their beverage. So, a bar cart next to a beer fridge along with shakers, glasses, openers, even a blender (yay for blended margaritas!) along with a bowl of lemons and limes makes it much easier for guests to mix their own cocktail or grab a frosty beer without digging behind the leftovers in my fridge.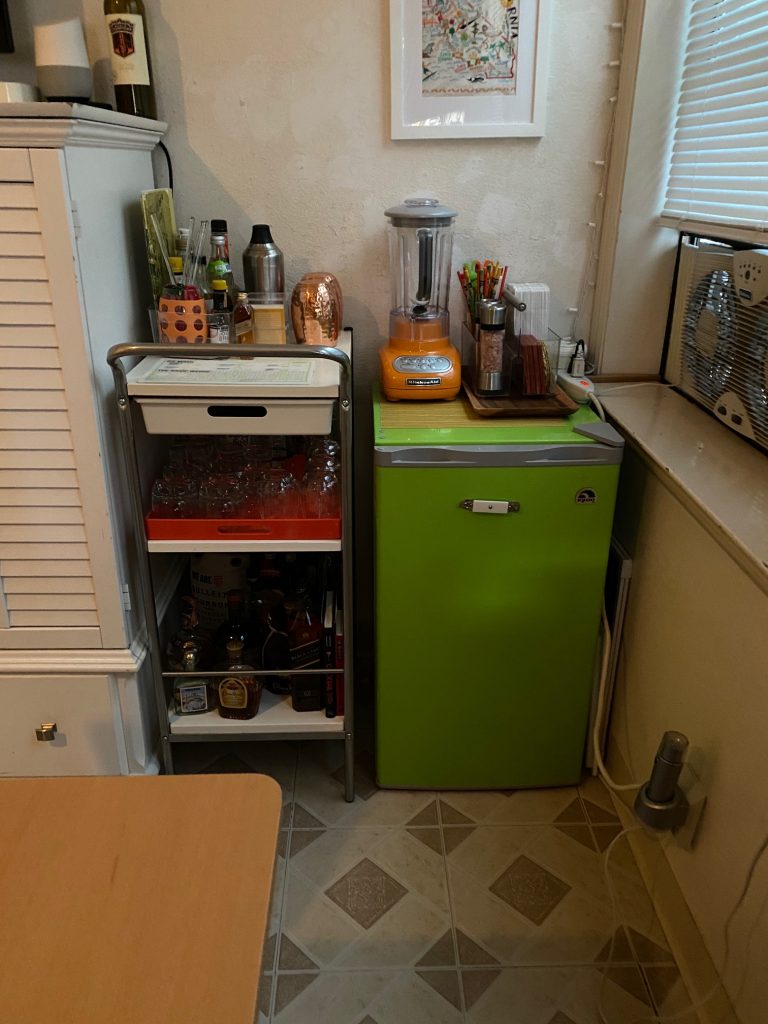 Cookware
All my pots and pans are out and ready to hit the stove. Having the right tools for the job is imperative and being able to see what I'm working with makes that a snap.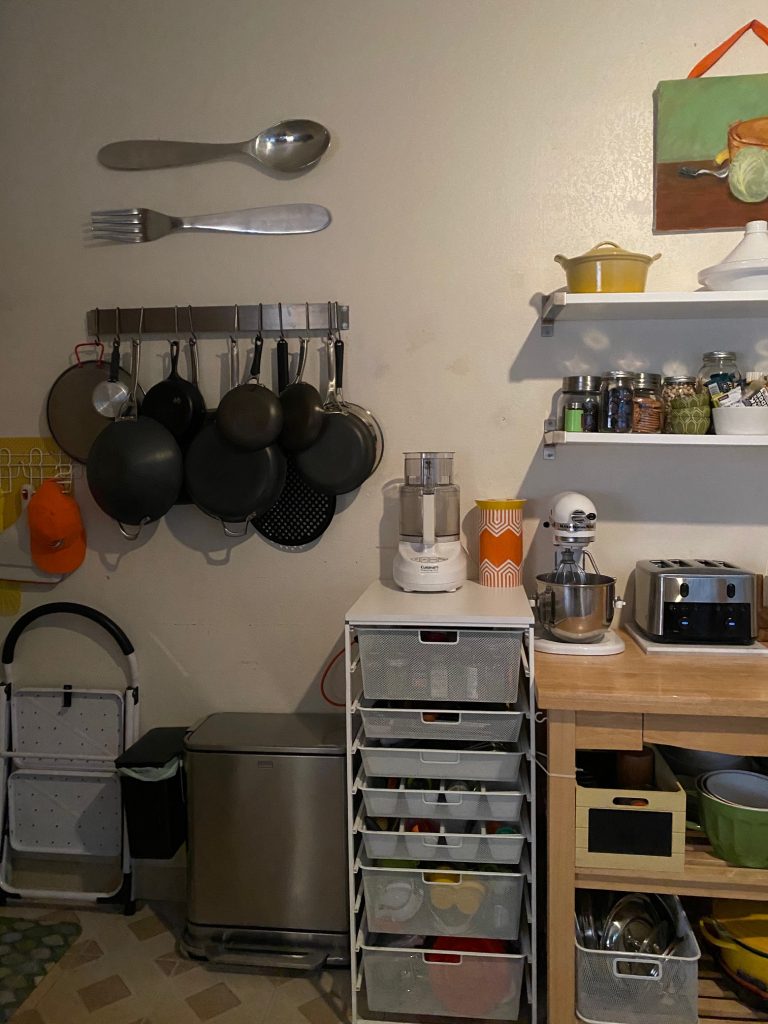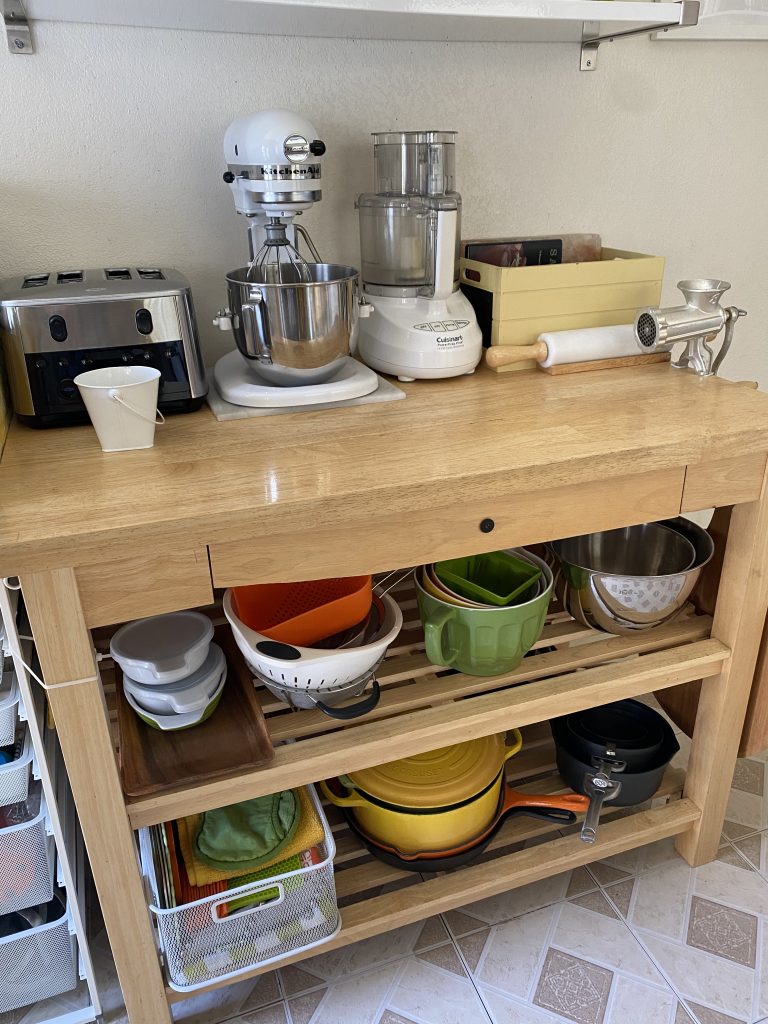 Appliances
I have virtually no counter space and no cabinets. I have a few small appliances – like a food processor, toaster, and standing mixer – and they all need to go somewhere. I don't want to be pulling them out each time they are needed. By grouping them together and plugging them in, I can blend, mix and toast (breadbox is also right there) easily and have the necessary space to do it.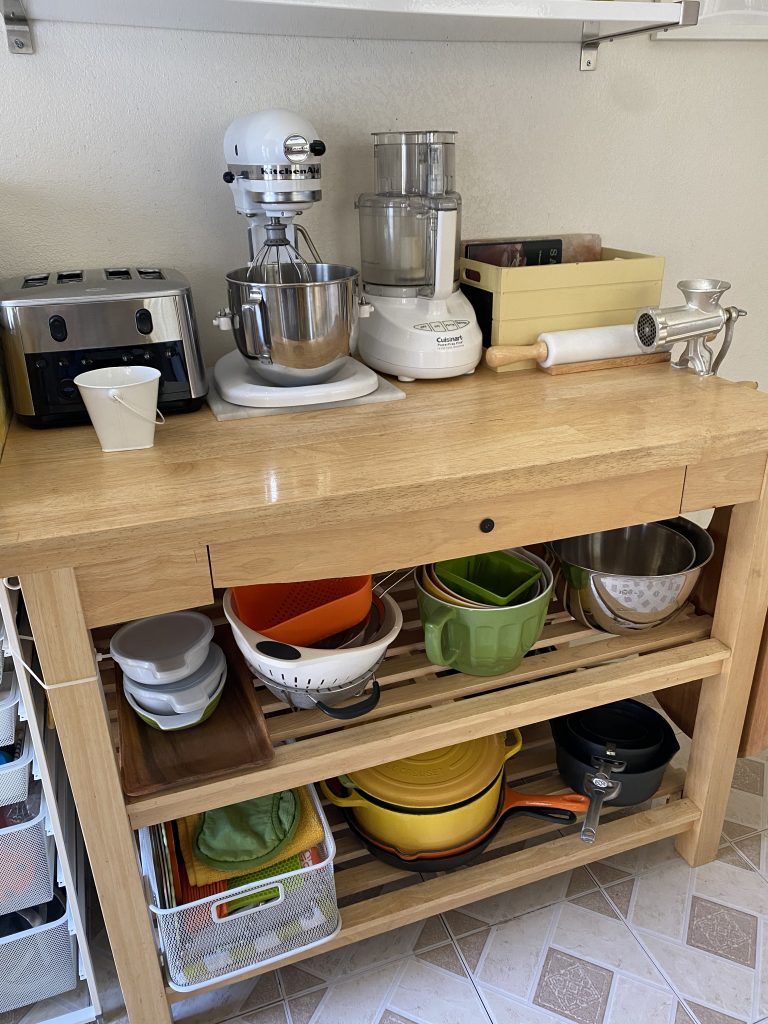 Spices
Ah..I love my spices and put them in a single drawer with labels on the top so that I can easily grab everything I need without having to touch every jar to see what's inside. I also have a box that contains about 10 different types of salt. Yes, I have a bit of a salt obsession.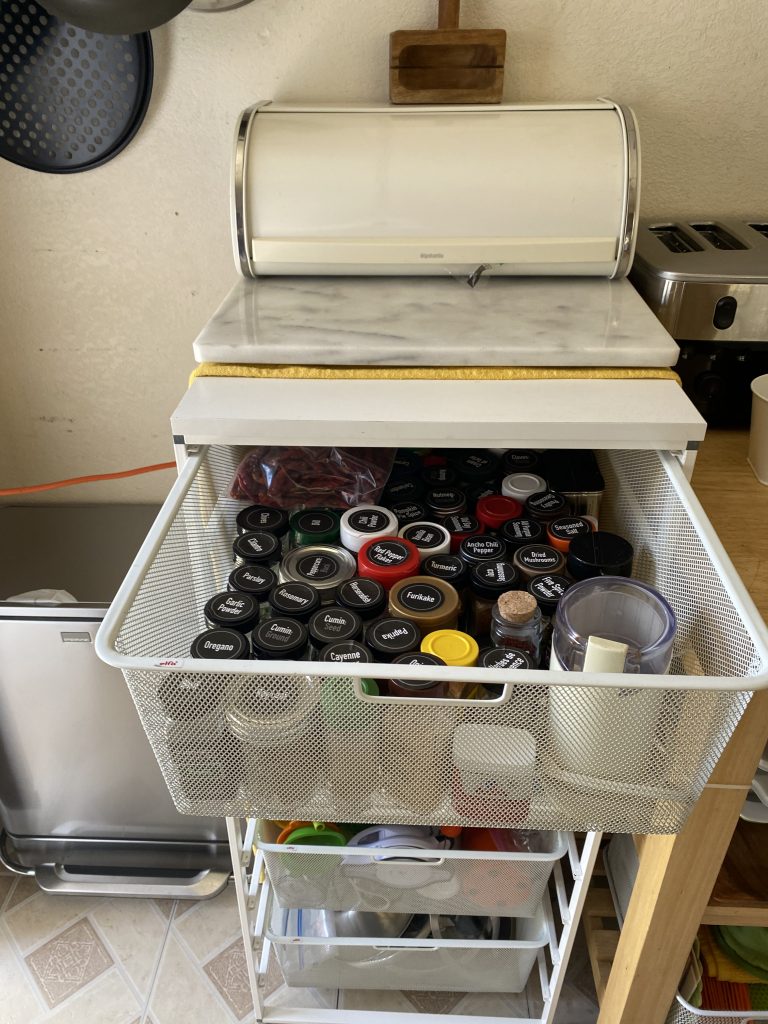 Snacks
Again, I like people to have access to what they want without feeling awkward about having to poke around looking for a snack or treat. So, the clear jars show you what's inside. There's cookies, nuts, trail mix, bar mix, and protein bars. I also put some small bowls so that people can just grab and indulge.Snack on!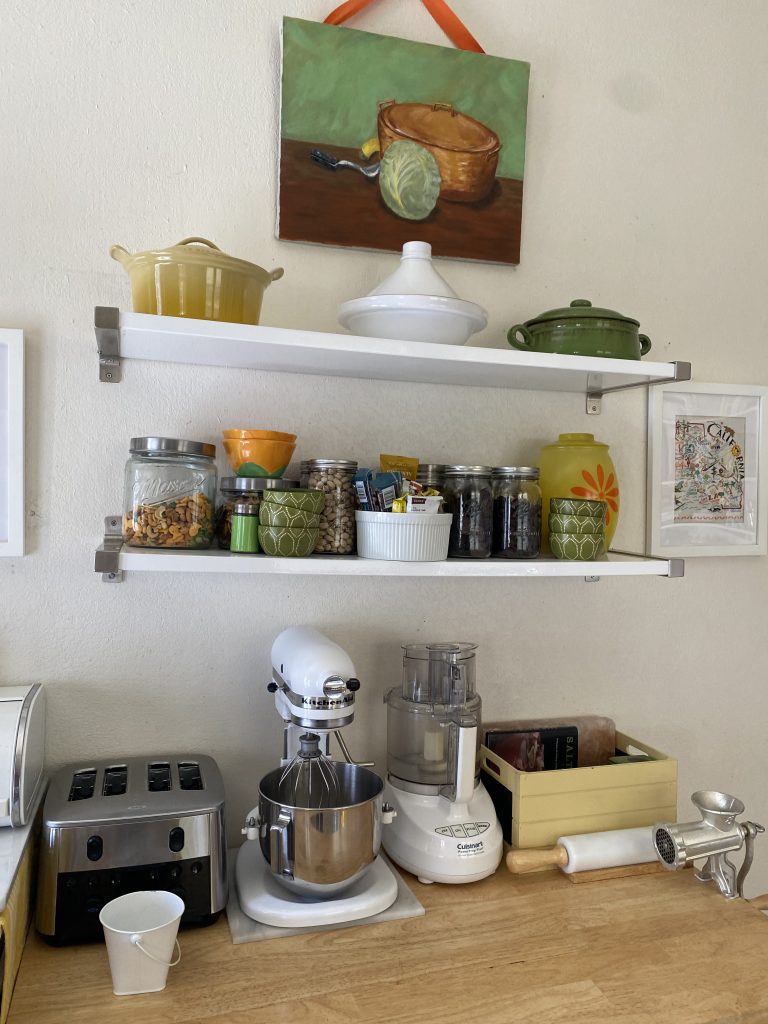 Food/Pantry
Even within the food zone I have everything broken down – misc canned items, beans, etc. on one shelf, soups and sauces on another, grains on another, all baking items together (and higher up since they don't get used too often) , pastas and rice, then sauces and condiments and oils. I can see what I have and get to it fast.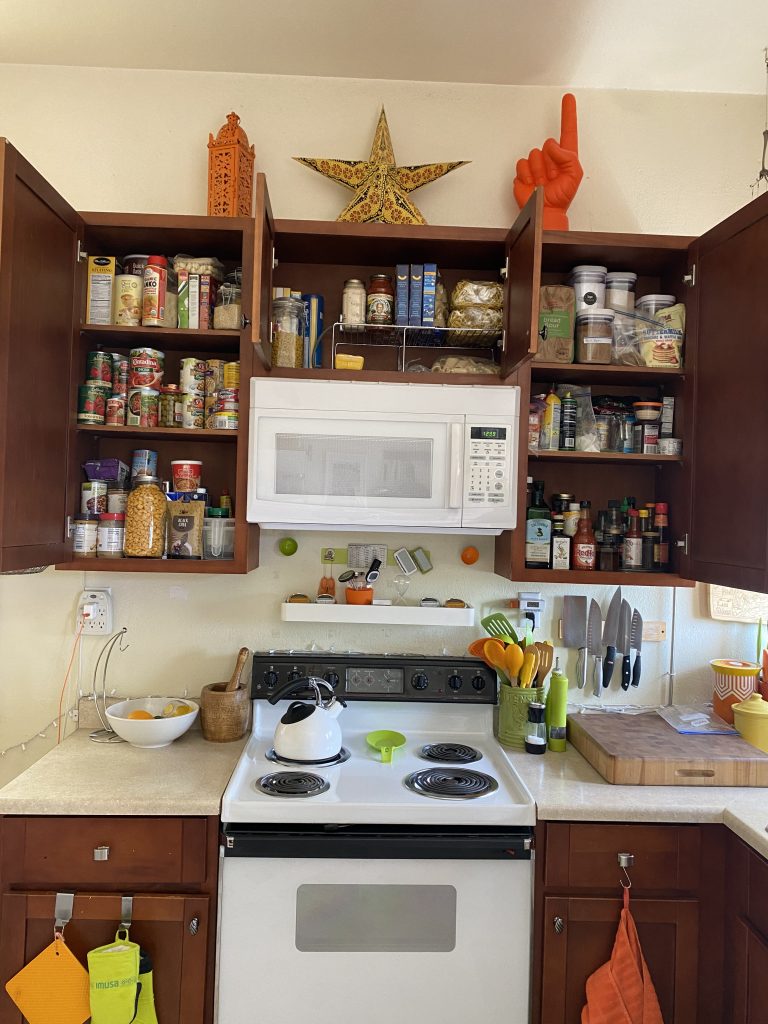 Bakeware
I used to have everything all in one cabinet, but each time I wanted the most used items it was like a Jenga puzzle of carefully removing sheet pans and then putting everything back exactly how it was crammed in. Now I have bakeware divided into two different spots. Specialty pans like the ones that make the brownies crispy or a bundt pan are grouped together and out of the way. Easy access to the ones I use daily..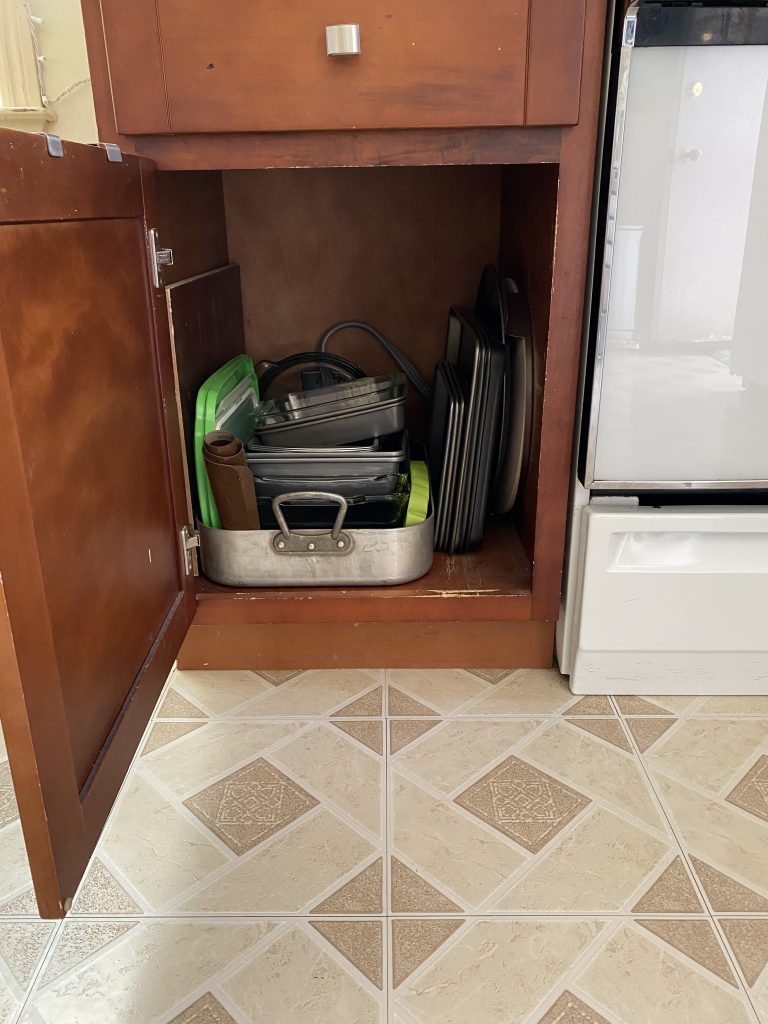 Trash/Cleaning
Aesthetically, I would prefer my trash can/recycling/compost receptacle was elsewhere, but it makes so much more sense for it to be close to where I need it when cooking and prepping. And since there is no broom closet, I have brooms, mops, etc.all in one spot.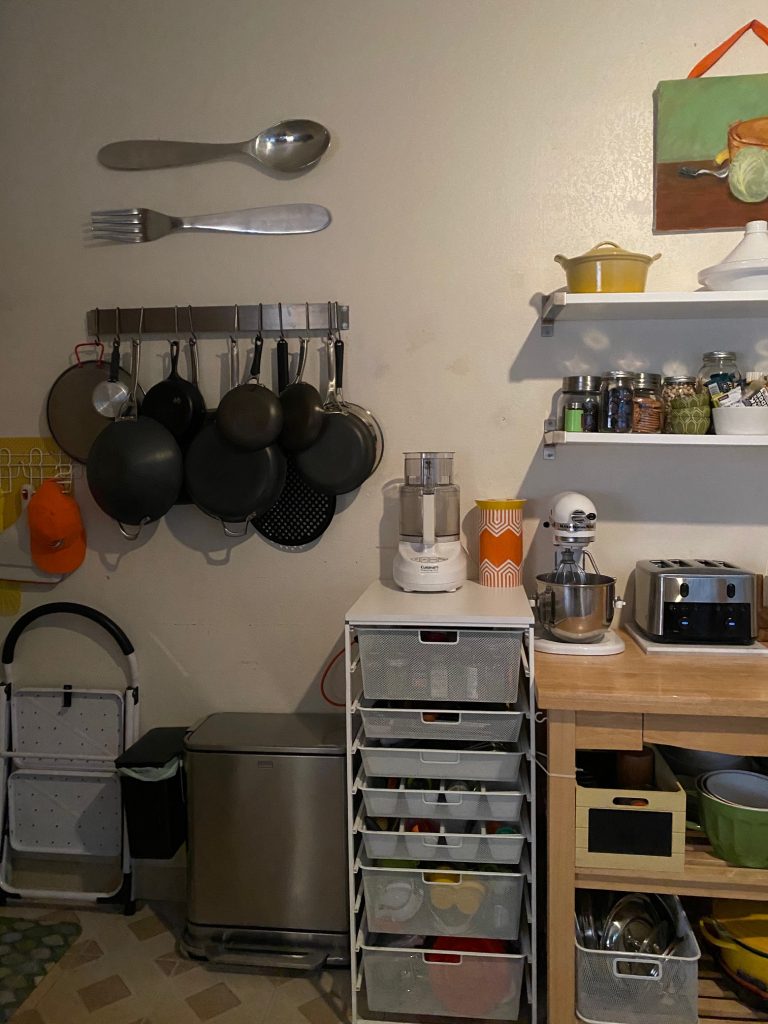 Chopping/Cutting
I like to be near the sink when I'm chopping, cutting and prepping. So I made more room for a huge cutting board. The knives are all there as well.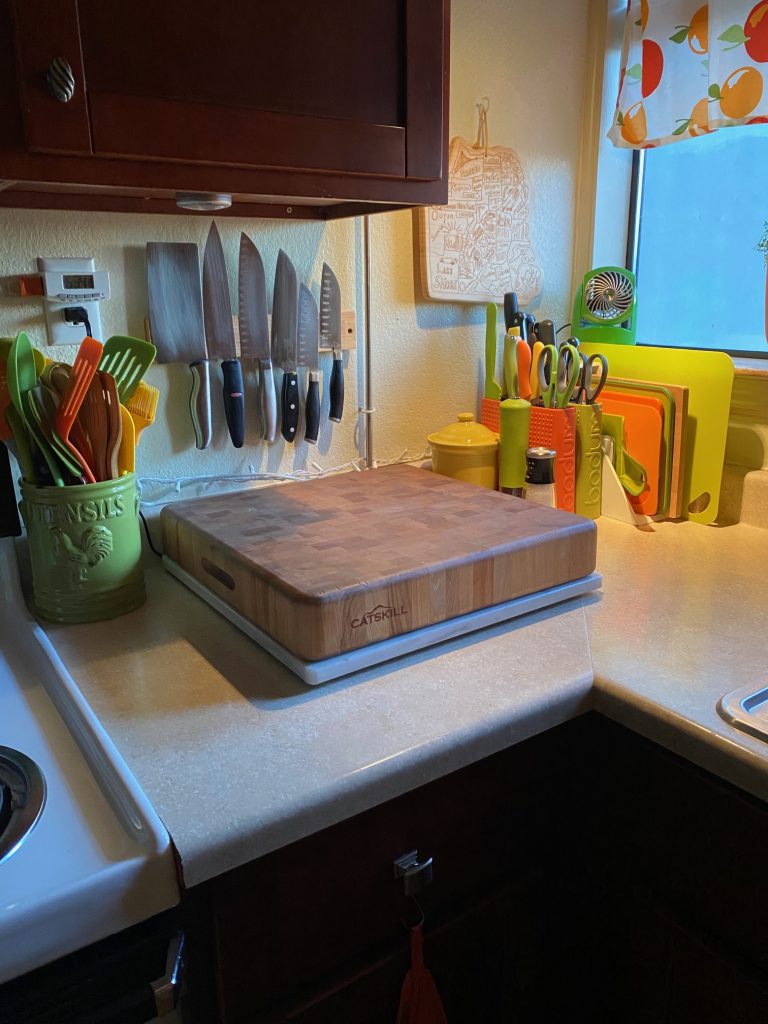 Dishwashing
Everything I need to clean and wash dishes is right above the dishwasher. I know. I know. Makes sense, but it wasn't always this way. D'oh.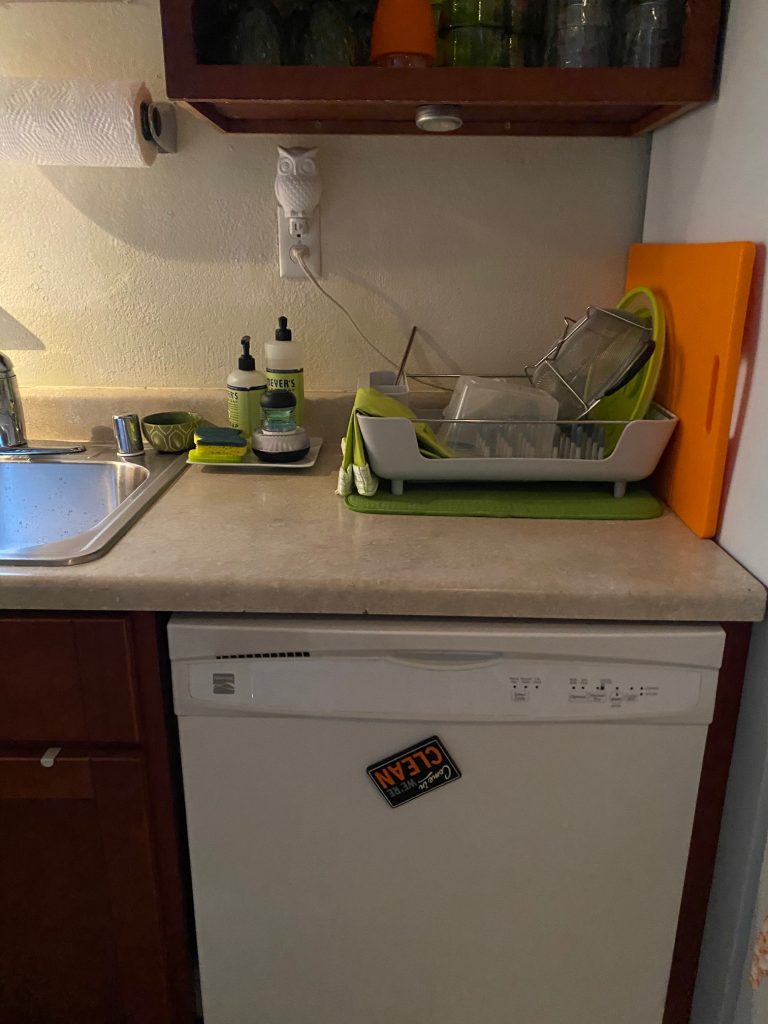 Dishware
I took the cabinet doors off because I like my assorted dishware and it's not only functional but a decorative element. I also want guests to see exactly where they can grab a glass, plate or bowl, if needed. They no longer have to open every cabinet in search of a glass.
Find a way to make your kitchen work smarter by organizing. It doesn't matter the size of your space or what you might be lacking. A little organization and ingenuity goes a long way.