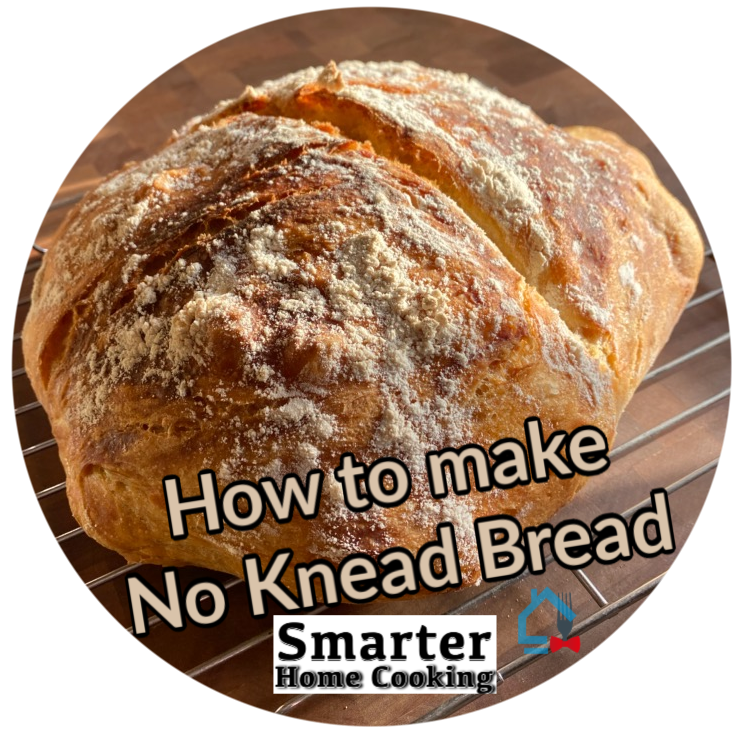 If you're craving comfort food while coping with these challenging times, you're not alone. And nothing is quite as comforting as fresh baked bread. But bread isn't just delicious, there's also something deeply satisfying about actually making it yourself.
Maybe that's why people are baking bread like crazy while being cooped up. That's clear if you check out social media or encounter a shortage of yeast at the store. People want to make bread at home so badly that many have even taken to local online or neighborhood groups to barter for yeast.
I love to cook, but baking just isn't my thing. It's a skill that has always eluded me. I'm not all that good at following instructions or at science – and baking is definitely an art combined with science. I'm much more of a dash of this and pinch of that cook with pretty tasty results.
But over the years I have repeatedly come back to a bread recipe that is so simple even I can't screw it up.
So, last week I dug out the recipe and once again it didn't fail.
Enjoy!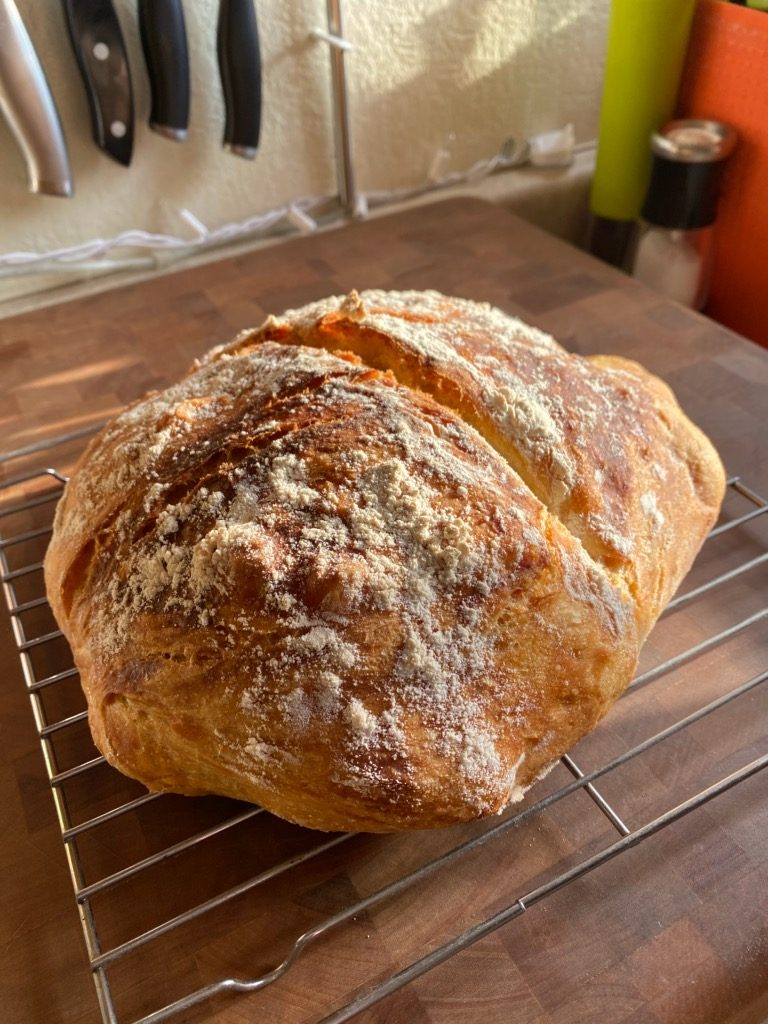 How to make no knead bread (it's easier than you think)
INGREDIENTS
3 cups unbleached all-purpose flour, plus additional for dusting work surface (15 ounces) or 3 cups for whole wheat use 2 cups unbleached all-purpose flour and 1 cup whole wheat flour
1⁄4 teaspoon fast rise yeast
1 1⁄2 teaspoons sea salt
7 ounces room temperature water
3 ounces beer
1 tablespoon white vinegar
DIRECTIONS
Whisk flour, yeast, and salt in a large bowl.
Add water, beer, and vinegar. Using rubber spatula, fold mixture, scraping up dry flour from bottom of bowl until shaggy ball forms.
Cover bowl with plastic wrap and let sit at room temperature for 8 to 18 hours.
Lay 12- by 18-inch sheet of parchment paper inside a 10-inch skillet and spray with nonstick cooking spray.
Transfer dough to lightly floured work surface and knead 10 to 15 times.
Shape dough into a ball by pulling edges into the middle.
Transfer dough, seam-side down, to parchment-lined skillet and spray surface of dough with nonstick cooking spray.
Cover loosely with plastic wrap and let rise at room temperature until the dough has doubled in size and does not readily spring back when poked with your finger, about 2 hours.
About 30 minutes before baking, adjust the oven rack to the lowest position, place 6- to 8-quart heavy-bottomed Dutch oven (with lid) on the rack, and heat oven to 500 degrees.
Lightly flour the top of the dough and, using a razor blade or sharp knife, make one 6-inch-long, 1/2-inch-deep slit along top of the dough.
Carefully remove pot from oven and remove lid.
Pick up dough by lifting parchment overhang and lower into the pot (let any excess parchment hang over the pot edge).
Cover pot and place in the oven.
Reduce oven temperature to 425 degrees and bake covered for 30 minutes.
Remove the lid and continue to bake until the loaf is deep brown and an instant-read thermometer inserted into center registers 200 degrees, 20 to 30 minutes longer.
Carefully remove bread from pot; transfer to wire rack and cool to room temperature, about 2 hours.
How to Substitute Active Dry Yeast for Instant Yeast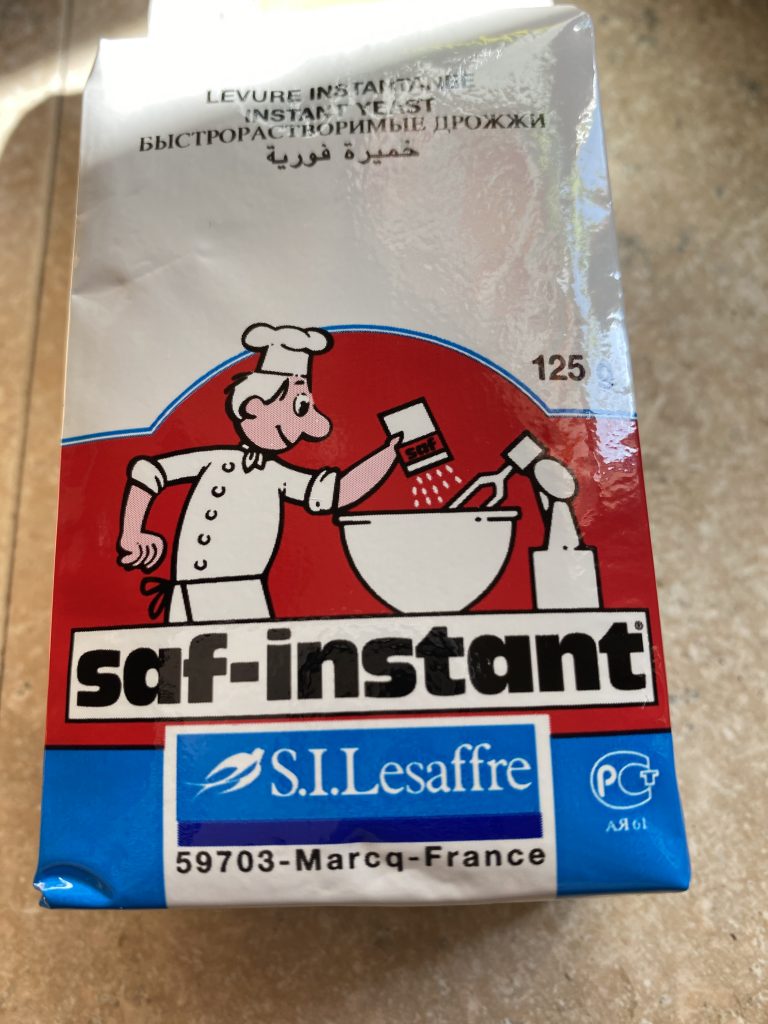 Active dry yeast was the common dry yeast up until the late 20th century. It must be rehydrated in liquid before being added to the dough; use some of the water from the recipe to do this. Often, you can test the yeast with a pinch of sugar as it rehydrates (proofing). If bubbles or foam form on the surface of the liquid within about 10 minutes of adding the water (110 to 115 F) and stirring your yeast is still alive.
Active dry yeast is commonly packaged in small envelopes and sold in grocery stores in the U.S. and Europe. It is not as concentrated as instant yeast, so you need more active dry yeast when substituting:
1 package active dry yeast = about 2 1/4 teaspoons = 1/4 ounce = 7 grams
To use active dry yeast instead of instant (bread machine) yeast in a recipe, multiply the amount of yeast by 1.25.
1 teaspoon active dry yeast = 3/4 teaspoon instant yeast
1 package instant yeast (2 1/4 teaspoons or 7 grams) = 1 1/4 package active dry yeast (2 4/5 teaspoons or almost 9 grams).